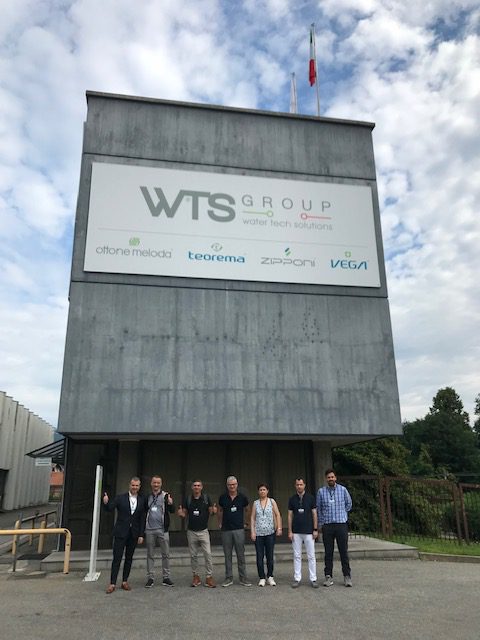 WTS is proud to formalize the visit of historical and developing Greek partners:
DEDES LEONIDAS LTD
GEORGIADIS D.NIKOS
HYDROMETAL SA
KRINI IDRAULICA S.A.
MANOS KONSTANTINOS
OPSIMOULIS VAS. & CO EE
Mr. Lampros Giannopoulos – A.GIANNOPOULOU & CO OE
The visit took place on June 20-21, 2019 at the plants of FLERO (BS) and SAN MAURIZIO D'OPAGLIO (NO). The group was followed by the Area Manager Marangoni Roberta and was kindly and professionally accompanied by Mr. Lambros Giannopulos of the historic WTS partner agency in Greece A.GIANNOPOULOU & CO OE.
A strategic visit to consolidate the awareness of the WTS group production standards and share the guidelines to better develop the presence of the Greek market.
The visit saw the involvement of all WTS SPA departments with the presence also of the WTS President Sig. Luigi Pedrali who led the group in the Di San Maurizio d 'Opaglio production plant.
________________________________________________________________
Η WTS είναι υπερήφανη για την επίσημη επίσκεψη των ελλήνων συνεργατών της με συμβολή στην πορεία ανάπτυξης της:
ΓΕΩΡΓΙΑΔΗΣ Δ. ΝΙΚΟΣ
ΔΕΔΕΣ ΛΕΩΝΙΔΑΣ ΕΠΕ
ΚΡΗΝΗ A.Ε
ΜΑΝΟΣ ΚΩΝΣΤΑΝΤΙΝΟΣ
ΟΨΙΜΟΥΛΗΣ ΒΑΣ. & ΣΙΑ EE
ΥΔΡΟΜΕΤΑΛ Α.Ε.
Κ. Λάμπρος Γιαννόπουλος – Α.ΓΙΑΝΝΟΠΟΥΛΟΥ & ΣΙΑ ΟΕ
Η επίσκεψη πραγματοποιήθηκε στις 20-21 Ιουνίου 2019 στις εγκαταστάσεις της FLERO (BS) και στο SAN MAURIZIO D'OPAGLIO (NO). Την ομάδα ακολούθησε η Area Manager Κα Marangoni Roberta αλλά και συνόδευσε ο Κος Λάμπρος Γιαννόπουλος, εκπρόσωπος του ιστορικού γραφείου αντιπροσωπειών και συνεργάτης της WTS στην Ελλάδα, Α.ΓΙΑΝΝΟΠΟΥΛΟΥ & ΣΙΑ Ο.Ε.
Η εν λόγω επίσκεψη πραγματοποιήθηκε με σκοπό την ενημέρωση και γνωστοποίηση των προτύπων παραγωγής που ακολουθεί ο όμιλος WTS καθώς επίσης και την ανταλλαγή απόψεων για την καλύτερη ανάπτυξη των πωλήσεων του στην ελληνική αγορά.
Η επίσκεψη πραγματοποιήθηκε σ΄όλα τα τμήματα του ομίλου WTS παρουσία και του προέδρου Κου Luigi Pedrali, ο οποίος ηγήθηκε της ομάδας στο εργοστάσιο παραγωγής στο San Maurizio d 'Opaglio.